"Life is gray and dull. You might as well have a little fun when you dress and amuse people."
"Color is so important. I mean, color can raise the dead." – Iris Apfel
Sometimes, people let cultural attitudes define their worth. Older people can be influenced to believe that life's purpose is winding down, so why be engaged? In my audiology clinic people sometimes tell me, "I'm old. I probably have little time left, so I am not going to do anything about my hearing loss."
If you are still on the planet, then you have purpose, worth, and value. Period!
Rare Bird of Fashion, Iris Apfel is 95 years old. During her exciting career, she was sought out internationally for original interior design in grand estates, museums, and even the White House. Her disregard for fashion rules, eye for the exotic, and legendary multicultural accessory collection landed her a wildly successful exhibit at the Metropolitan Museum of Art. Here you see her modeling for Macy's as a cover girl! Age does not define her boundaries, her worth, or her value.
Photographer Bruce Weber's description of Iris on a glamour photoshoot: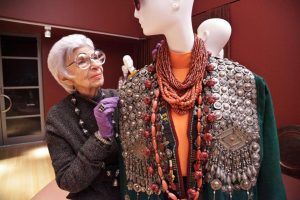 "When I first met her, there were all kinds of people, all ages, all walks of life, all surrounding her. She was so engaging to everybody, you know? But I could feel the pulse of her life, of her excitement about living."
Iris ~ Remembering the wisdom of a family friend:
"When you would say, "How are you feeling today?" She'd say, 'Well to tell you the truth, when I get up in the morning, everything I have two of, one hurts'… and that's the way it is. I mean when you're older, a lot of people just give into that, unless it's something really serious; but if it isn't, you just have to push yourself. And then you go out, and you start to do things, you forget about yourself. Otherwise, you just sit there and brood all day."
"It's better to be happy than well-dressed…" – Iris Apfel
So you may be thinking, "I'm not some famous designer who has had a distinguished career and I don't get calls from NYC every week and young people don't give me the time of day." Fair enough. Let's look at two local sisters.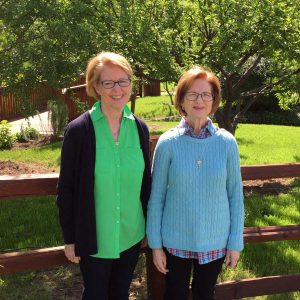 Sisters Diane and Adair, who live locally in Denton, TX, felt the pull of nations on the other side of the planet. They have recently traveled to Israel and New Zealand on prayer journeys. Together, they minister to people of other nations to effect positive change and help individuals recover from past hurts. Sometimes their travel involves challenges like renting a car and driving where they don't speak or read the language. On a journey through Scotland, they discovered more of their Celtic roots. And from that growth and refreshing, they found new strength and more adventures. You go Girls!
Regardless of age, you have purpose. The adventure germinates when get your mind off yourself, tap into your roots and re-engage life. People are waiting for you to fulfill the reason you were put into their lives.
Come see us and we will help you "Keep it Colorful."