Everyone likes to get their money's worth.
Perhaps you invested in hearing aids or over-the-counter devices, from somewhere other than Colorful Hearing, and you found that they really didn't help. Unhappy stories circulate amongst your friends, and we hear about them too. Consumers are often uncertain about where to go and how to get effective hearing help.
It matters as much WHO fits you as WHAT you are fit with. Colorful Hearing's distinguished audiologist, Dr. Taylor, has successfully worked with thousands of hearing impaired people to break through their communication barriers during her 25 year career. Dr. Taylor has a Ph.D. in audiology and she is also hearing impaired. Dr. Taylor wears hearing aids and assistive devices, so she can understand your dilemma from a personal and a professional perspective.
At Colorful Hearing, we will unlock the potential that is in the hearing aid technology you have already purchased. Hearing aids can be reprogrammed to function in many different ways. Because we are independently owned, we have contracts with most major manufacturers, so we have the keys, knowledge, and the patience to make the hearing aids fit you!
Live Speech Mapping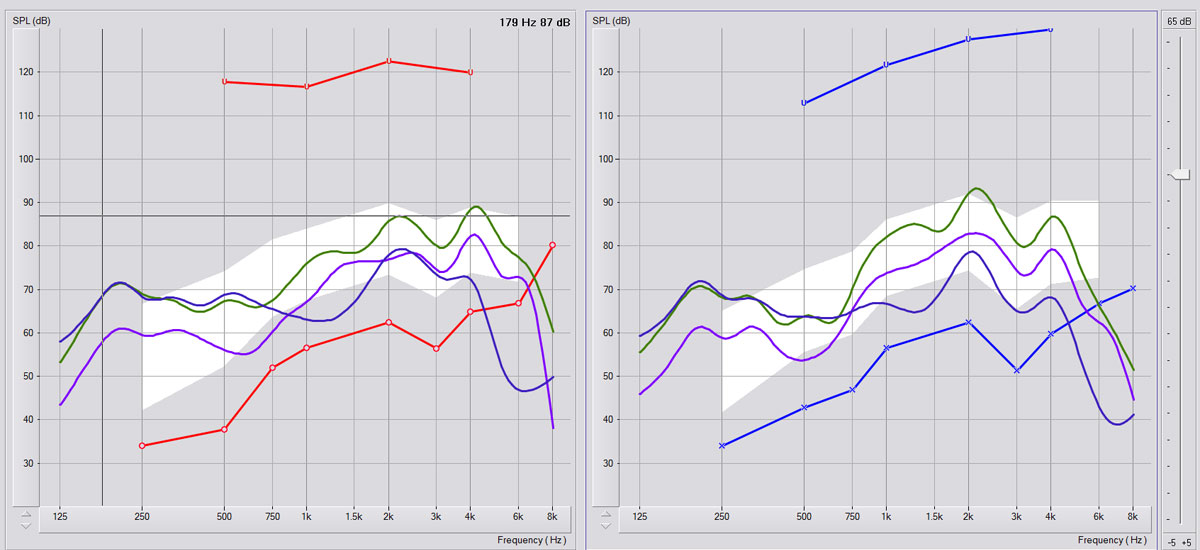 Reconfiguring Hearing Aids to Suit Your Needs
Psst: Some retail or big-box centers can only fit one or two brands because they are owned by a specific hearing aid manufacturer. And some lock the hearing aids to make sure no one else can service them. Bet no one told you that when you purchased them.
Dr. Taylor is expert at reconfiguring hearing aids to make them fit the wearer in amazing new ways. See the graphic example above. When this woman came to our audiology clinic, she was ready to purchase new hearing aids. Dr. Taylor realized that her current hearing aids were very high quality and could do far more to help her. With reprogramming, this Patient discovered that she did not need new hearing aids, just an expert to fit them.
Getting the Most Out of Your Hearing Aids
It is our delight to help you get the value you paid for, even if you didn't purchase your hearing aids from Colorful Hearing. Bring your current hearing aid technology into our office for a hearing aid evaluation. If you have a current hearing test done by a licensed audiologist in the last year, you will not need to repeat testing. Just bring your hearing test results with you to your appointment, or ask your former provider to fax your test results to our office at (940) 387-3332.
Dr. Taylor will do a Communication Needs Assessment and evaluate your hearing aids to see if they are appropriate for your hearing loss configuration and for your lifestyle. If they can be reprogrammed and are not technological dinosaurs, we will send you out with a new sound! We will also provide one year of follow-up service to make sure they fit properly, for one simple fee. It's a win-win.
If you would like to have your current hearing aids optimized by an expert, call us at (940) 387-3330 or contact us here.