Perhaps your neighbor told you what hearing healthcare would be like? This is why we are different:
Dr. Taylor's commitment to quality care required the autonomy of an independently owned private practice. Colorful Hearing was created out of her passion to help hearing impaired people break through communication barriers and her respect for the brilliance of Walt Disney's imagineering. As big fish swallow little fish in the business world, hearing services and healthcare have become confusing to the consumer. We realize this at Colorful Hearing, and we have made it simple.
We are not owned by any manufacturer, big box, or retail chain, which means that we are at liberty to recommend the most effective hearing aids and listening devices for you – not the corporate promotion of the week. Every Patient's hearing impairment and communication needs are different.
All of our staff at Colorful Hearing geek out on gadgets, while winning the hearts of our Patients. Ask our Financial Director, Michael, to help you sort though creative financing options, or ask our Practice Manager, Maria, to help you with scheduling an appointment or verifying your insurance benefits.
Every detail of Colorful Hearing has been designed for your delight and success. In the Land Over the Rainbow, we have fun working with Patients on their Yellow Brick Road to a better quality of life. There is no place like Colorful Hearing, and we invite you to make us your hearing healthcare home. Have a look at our hearing services below to learn how we can equip you!
Hearing Tests
Do you want a selfie of your eardrum?
Hearing screenings are usually the most common hearing service offered when you see a retailer offer "Free Hearing Tests". The reason they are free is because they aren't worth much. At Colorful Hearing, we take you seriously, so we don't play games to get you in our door. Our hearing evaluations and communication needs assessment are comprehensive, accurate, and critical to your success. We are outfitted with the most advanced equipment and methods to test your hearing out to 16,000 Hz. Most hearing tests extend to 8,000 Hz, which is fine for speech. Musicians usually want more. Our test suite features a large, soundproof room to offer the most accurate sound measurement and to prevent the feeling of claustrophobia. We protect you from germs with disposable insert earphones, disposable wax-removal tools, and stringent infection-control procedures. We also provide a non-toxic environment with the use of eco-friendly cleaning.
Many of our Patients tell us that our hearing test was the most thorough audiologic exam they have ever experienced. This hearing service enables us to diagnose your communication ability accurately, because we have the expertise and state-of-the-art tools backed by research. With our high-resolution camera, video otoscopy allows you to see inside your own ear. Or maybe you would rather pass on that selfie?
We provide hearing healthcare for adults. In a child's best interest, we refer Little Ones to our colleague Audiologists who specialize in pediatrics. Click here to learn more about hearing tests at Colorful Hearing.
Live speech mapping verifies the scientific aspect of maximizing your hearing ability. We will show you exactly what your hearing aids are producing in your unique ears in living color. That is truly Colorful Hearing. Come see how we make science work with perception.
Live Speech Mapping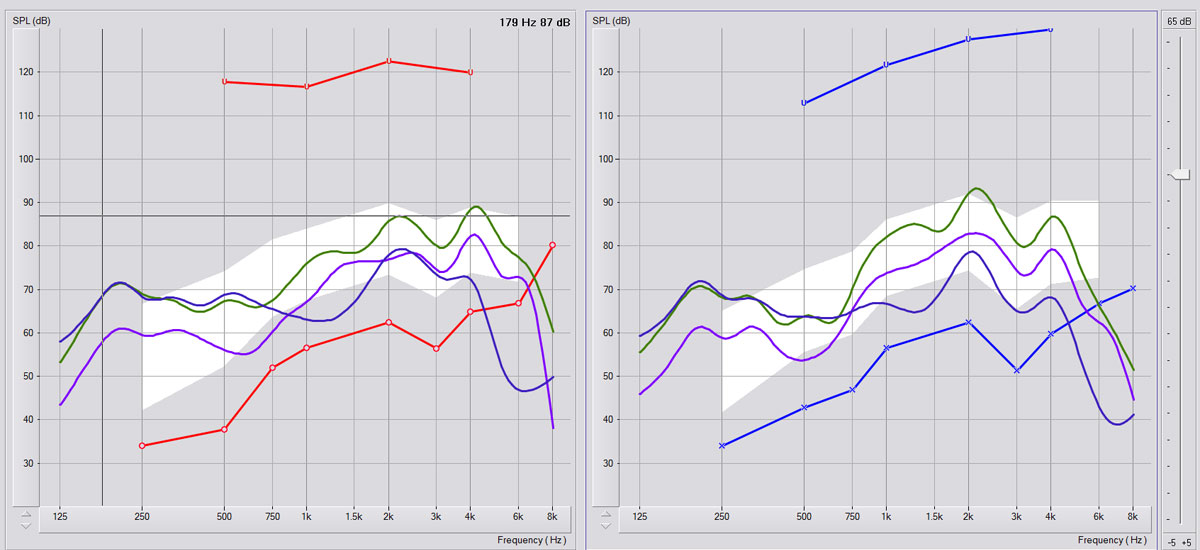 Hearing Aids
Do you want to sharpen your mind and rev up your relationships?
Sharp minds are sexy. The brain and the ear work together to bring understanding and keep you connected to loving relationships. Untreated hearing loss is linked with neural atrophy, dementia, depression, auditory memory loss, lost income, and broken relationships. To keep your neural pathways open and fit, the auditory cortex must be stimulated with meaningful sound. At Colorful Hearing, our hearing services help you keep your brain fit with amazing hearing aid technology and continuity of care. You are not just buying a nano-computer that you pop in your ear. It matters as much who fits you, as what technology you are fit with. As an audiologist, Dr. Taylor applies her Ph.D. expertise, more than 25 years of years of experience, fun-loving strategies, and first-hand understanding of hearing loss and tinnitus to offer effective solutions for Hearing Impaired Patients, Tinnitus Patients, Musicians, and Loved Ones. The combination of advanced hearing aid technology, specially prescribed for your hearing impairment and lifestyle, fit by a compassionate doctor who knows all the subtle nuances, adds up to outright delight and exceptional value. You will enjoy the ease with which you communicate and the effect that has on your relationships. Click here to learn more about Colorful Hearing's hearing aid services.
Hearing Aid Optimization
Do you want to get the value out of the hearing aids in your dresser drawer?
We hear the sad stories of people who purchased hearing aids and did not benefit from them. We are committed to helping you get the value out of your investment, even if you did not purchase hearing aids from Colorful Hearing. We know that you must maximize the capability of your damaged hearing mechanism in order to hear what you want, where you want, when you want. If your hearing aids are not locked (by proprietary software) or not technological dinosaurs, we will reprogram your existing technology to do much more than you knew was possible. Many of our Patients are amazed that they didn't need new hearing aids, just a new doctor. Call us to find out what you need to bring to your reprogramming appointment, or click here to learn more about our hearing aid optimization services.
Hearing Protection
Do you want to keep your song?
Noise has become such a part of our society that consistent exposure to loud sound is destroying our ability to hear and communicate. Indigenous cultures teach us that hearing loss in not an inevitable part of aging. Once hearing is damaged from loud sound in the form of pleasurable music, on-the-job noise, or firearms use, the hearing loss is usually permanent. Noise-induced hearing loss can be prevented! At Colorful Hearing, we work with musicians, hunters, construction workers, factory workers, police officers, firemen, soldiers, dentists, dental hygienists, hair stylists, concert enthusiasts, surfers, pilots, directors, and news teams to protect hearing effectively. Call our office to make a short appointment so we can define the challenges of your noisy environment and your communication needs. It is a good idea to schedule a baseline hearing test so you can find out if your ears are safe or already in peril. With one wise, affordable move, you can prevent noise-induced hearing loss and preserve your precious ears. Hearing is your connection to relationships, expression, worship, safety, employment, and quality of life. Our hearing protection services are sure to guard your hearing. Click here to learn more.
Listening Devices
Do you want to stop fighting over the volume of the TV?
We live in a world that assumes the use of TV, phones, computers, video games, and many other kinds of digital media. There is no reason for hearing impairment to cut you off from the people or the things you love. With the help of our advanced hearing services and amazing listening devices, you can hear the TV or phone in your hearing aids without being tethered to wires or bulky headsets. You can also use a companion microphone to hear in really tough environments, where even normal hearing people are challenged (like in loud restaurants or with the kids in the back seat of the car). A companion microphone can travel with you to access the hotel TV wirelessly or overcome the confusion of a group business meeting. With wireless steaming of TV, you can watch your programs at the volume you choose, while your family listens at a lower volume. This simple solution solves many family conflicts. Click here to learn more.
The most exciting advancement in hearing aids links you directly to your Apple iPhone®, iPad®, or some Androids without an intermediary device. Call us to experience the freedom to stream phone calls, apps, music, webcasts, or TV through Bluetooth technology. If you have to wear a cord around your neck to access these devices, your hearing technology may have fallen behind the times. Our hearing services can set you free!
Why let another day pass just enduring the negative consequences of your hearing loss? Our hearing services will equip you to live life in fullness! Call us at (940) 387-3330, or contact us here if you have any questions regarding our hearing services.